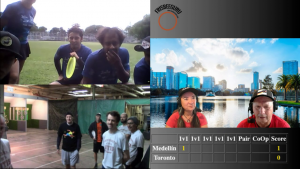 City vs City Recap
Medellin vs. Toronto
January 25th 2020
Format: Five 1 vs 1 battles followed by a Pairs vs Pairs (worth two points) then a Co-Op (three points)
The first City vs City competition of 2020 featured Medellin, Colombia vs Toronto, Canada on January 25th. The format for the competition was five rounds of 1 vs 1. A player was selected from each team to play against each other. Whoever wins the round wins one point for their team. Following the five 1 vs. 1 competitions is a Pairs round where to players perform for 2 minutes. The winning team wins 2 points for their team. That round is followed by the Co-op round where teams of three players compete against each other. That winning team wins 3 points for their team. The first team to win 6 points wins the round and advances to the semi-finals. If the score is tied after the five 1 vs 1, pairs and Co-op rounds, a sudden death round of 1 vs 1 will determine the final champion.
The judges are Hall of Fam inductees Bill Wright, Larry Imperiale and Steve Hubbard. Other staff was Jake Gauthier (Broadcast Director), Lori Daniels (Host), Skippy Jammer (Co-Host) and Randy Silvey (Judging Director).
Round One 1 vs 1: Santiago Sepulveda (Med) defeated Brian McIlwain (Tor)
Brian started things off with a nice inside against the spin crank then did an under the leg set to a straight forward catch that popped out of his hand. Advantage Medellin. Santiago countered with a nice Bad Attitude freeze then a long tipping combo. He set the disc for a nice Bad Attitude catch but the disc also popped out of his hand. Medellin takes the dual.
SCORE: Medellin 1 Toronto 0
Round Two 1 vs 1: Patrick Chartrand (Tor) defeated Monica Correa (Med)
History was made in the next match up. For the very first time a woman competes in a match. Monica Correa throws down a nice combo, showing her skills. Patrick responds with smooth control, winning the matchup for Toronto.
SCORE: Medellin 1 Toronto 1
Round Three 1 vs 1: Brett Schramek (Tor) defeated Pablo Azul (Med)
Brett the Jet leads off with an against the spin behind the back crank to a go set into a huge gitis. Advantage Toronto. Pablo takes upside down Counter spin, turns it over, sets for a matching huge gitis catch but the disc pops out of his hand. Toronto takes the matchup.
SCORE: Toronto 2 Medellin 1
Round Four 1 vs 1: Juan Piercing (Med) defeated Jon Soles (Tor)
Jonny tips the disc a couple of times then tries to take the disc under his leg. But the disc hits his leg before he can get started. Advantage Medellin. Juan takes the counter throw, does a couple of passes then executes a somersault delay move, tips then sets the disc for a basic invert catch that also pops out of his hand. But it was more than enough to take the match.
Toronto 2 Medellin 2
Round Five 1 vs. 1: Jolan Canrinus (Tor) defeated Andres Rivera (Med)
Andres looks fired up to pull off a big move. He does a basic move, then a figure 4 delay freeze. He tilts the disc and sets if for an inside pull that ends up on the dirt. Advantage Toronto. Jolan comes up with some nice pulls and rejuvenations followed by another rev up and an outside kick then sets the disc for a perfectly executed spinning under the leg catch. Toronto retakes the lead. This result also ensures that the match will either be decided in the Co-op round for Toronto, or Medellin has to take the Co-op round to force Overtime.
Toronto 3 Medellin 2
Round Six 2 vs. 2: Jon Soles/Jolan Canrinus (Tor) defeated Pablo Azul/Juan Piercing (Med)
Now the match moves into the Pairs round. Toronto comes out first. Jonny and Jolan display some intricate and accurate passing. Their co-ops are quick and punchy, constantly moving and using space. They're also catching almost everything. They have 25 co-ops/quick catches with only 4 drops. A solid round for the original freestyle city jammers. Advantage Toronto. The Medellin jammers bring out Pablo and Juan who show great skill by turning the disc over, brushing counter and effectively passing the disc. They have longer combos and end up with 9 Co-ops and only 3 drops. A close round taken by the Canadians. Now The Colombian's must take the Co-op round to force overtime.
Round Seven 3 vs. 3: Andres Rivera/Monica Correa/Santiago Sepulveda defeated Patrick Chartrand/Brett Schramek/Brian McIlwain. The Canadians come out first with the veterans Patrick and Brian setting the stage for the young shredder Brett the Jet. They execute well and show a strong variety of moves with 20 exchanges and only 4 drops. Things look good for the the team from the Great White North. And now the Colombian's know what they have to do. It is uncertain if it was a strategic move or if it was the plan all along. But they come out with a 'shred-or-die' mentality. They start off with a double disc co-op featuring Monica. Then Andres catches fire executing a double spinning barrel catch. On the next co-op the disc is set for his big catch. He levitates for an instant, twists and catches a crash-and-burn phlaud. There's more gitis, a big flying Bad Attitude, and more gitis. Then Andres sets the disc for the final catch, an elevated Flamingitosis which he completely nails. What a round. Game on. And now onto Overtime.
Overtime: Andres Rivera defeated Jon Soles
Talk about excitement! A one-on-one dual to decide the Match. Andres leads off with some nice control moves, rolling, brushing, stalling. He sets for a spinning under the leg catch which he misses. A slight edge to Toronto. Jonny Soles does some nice pulls, rerevs, kicks and rolls. Then he sets the disc for the big ending catch which he also misses. Now it's in the hands of the judges. They confer and decide the content of Andres longer moves were the difference. But by the narrowest of margins.
Final Score: Medellin 6 Toronto 5
Individual scoring:
Medellin:
Santiago Sepulveda 2 points
Andres Rivera 2 Points
Juan Piercing 1 Point
Monica Correa 1 Point
Toronto:
Jolan Canrinus 2 Points
Patrick Chartrand 1 Point
Brett Schramek 1 Point
Jon Soles 1 Point
Link to the live feed: