Podcast: Play in new window | Download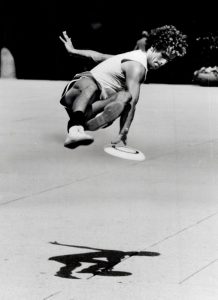 City Folk Podcast is featuring an episode on Freestyle Frisbee, featuring an interview with Brad Keller, and it is definitely worth a listen. It starts with one of the best descriptions of Freestyle Frisbee ever
Patrick talks about demos back in the day, and his experience as the half time entertainment for the Globe Trotters in Toronto. Playing in those big arenas is truly an amazing feeling.
Patrick shares how Freestyle won over the border guards during a challenging crossing at the Canadian border.
Randy asks Patrick his thoughts on why all the demos and freebies haven't attracted more jammers. A discussion about mentors, access points, education, and friendship, follows.
What was your access point to Freestyle? If we had an infusion of cash, what are your ideas for creating sustainable access points?
Skippy Jammer, you're awesome, thanks for your contribution to Frisbee Guru!!