Podcast: Play in new window | Download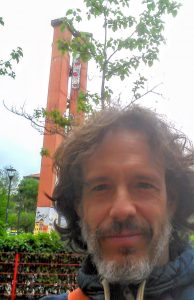 Jeff Felberbaum was recently inducted into the freestyle hall of fame as part of the initial inductee class. He was also the winner of the 1979 and 1981 Rose Bowl and one of the original Washington Square Wizards.
Jeff shares how a simple overhand wrist flip caught his eye from a school window and eventually lead him to Washington Square Park where his game matured.
Jeff shares his fascination with the disc, and gets introspective about his motives for playing.
He also talks about being part of Krae Van Sickle Disc Dance Project.
Why did he put down the frisbee for 30 years?
Jeff's Hall of Fame Induction