Podcast: Play in new window | Download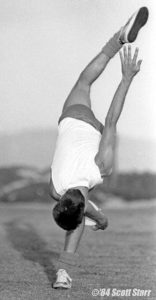 Joey explains how frisbee represents something much deeper to him. He was originally inspired by the band, Hot Tuna, admiring how they followed their own artistic path. It was the OCTAD Jersey Jam tournament in the mid 70's that spurred Joey's interest in competing. He shares his strategies on pushing the limits of his skills. He also talks about the creation of many of the moves that continue to make freestyle exciting. Joey shares some sound advice for young players as well as his approach to balancing choreography and spontaneity. Will we ever see the lost routine between Joey and Richie Smits? Do you have a lost routine that you pine over? Let us know know the comments.
Jake talks about what your generous donations are used for.