Podcast: Play in new window | Download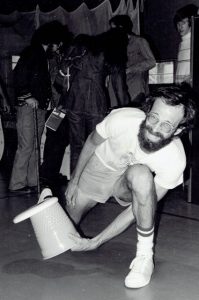 Happy One Year Anniversary to the Frisbee Guru Podcast, Shootin' the Frizbreeze! Hard to believe there have been over 52 episodes and there are still so many stories to be shared. Jake and Randy reminisce about some of their favorite episodes. It gets a little mushy.
Stork shares the origins of OCTAD and all the crazy events that it included. He wanted it to be like a decathlon and spread out the challenges for all interests and abilities. Something to offend everyone, he says.
It is amazing to get a behind the scenes look at the design process for the eight events. Stork elaborates on one of the events; the Eastern Trick Catch.
Pre-internet, they relied on Flying Disc World Magazine to get the word out and initially had about 30 participants.
Stork talks about the mid-west freestylers and some of the cool things they were doing.
Check our Freestyle History section to read more about Eastern Trick Catch and the Origin of Freestyle Competition.
A Special thanks to those that have donated or become Patron's! We love you!!