Podcast: Play in new window | Download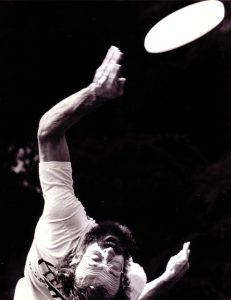 In this episode, Stork tells the story of how he got his nick name.
Jake shares his "hot" travel adventures from the Big Island.
It was while Dan was playing an epic Ultimate Frisbee match-up in 1974; Rutgers vs. Princeton, that a huge crowd gathered and started chanting 'stork, stork, stork.'
Dan made some assumptions about why he got that nick name, since he was all legs.
Learn how this unique match up lead to features on local new stations and even an article in the New York Times. Here's a link to the New York Times article.
It also led Dan to a gig doing demos for the Philadelphia Sixers and uncovering the true origin of his nick name.
Find out about Randy and Jakes nick names.
Do you have a nick name, and if so, what is the origin?
Thanks for listening. If you download, like, and/or leave a comment, it will help boost our ratings.
Here are photos from Jake's Big Island adventure.
Stork has has been featured on other podcasts, here and here.
Enjoy some vintage video of Stork and John Kirkland playing frisbee on the beach.