Podcast: Play in new window | Download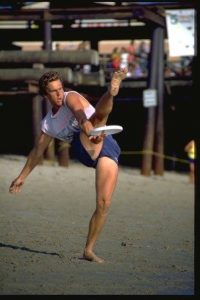 Jake shares his experience at Jammers… oops, by this taping, he hadn't really been yet. You will get a real update next week.
Chipper Bro Bell returns regaling stories from the time that he, Joey Hudoklin, and Crazy John Brooks were on the Budlight Team in 1983.
They entertained at spring breaks, chili cookoffs, baseball games, and ultimately ended up joining the concert tour.
Wait until you hear about the huge crowds the famous bands they opened up for.
Crazy comes by his name honestly… Chipper elaborates with some amazing tales.
In a past episode, Joey shared the story of playing in China immediately prior to the Tiananmen Square incident. Chipper shares his perspective on the visit, which days later, Newsweek Magazine reported that demonstrations were sparked by the Jan & Dean duo. Find out what really may have been the spark and how that became Frisbee history.
Jake asks Chip about the impact to his skill level and growth as a player. Your game improves, but it can get a bit boring doing the same routine time and time again. Randy can relate to the demo lifestyle, albeit not quite as exotic.
Chipper is clearly thankful for how he was able to celebrate frisbee in such an amazing way, and get paid for it!

Reminder, there is a newsletter waiting for you.