Podcast: Play in new window | Download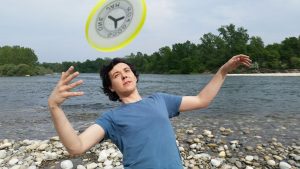 Jake says that Jammers 2018 was the best in 11 years; there was a strong & consistent wind, which made the play exciting and allowed for some unique experimentation.
Fabio shares about the Acrobatic Frisbee Team with Claudio and Clay, who Randy agrees, is quite magical.
Find out how Tom Leitner & Paul Kenny play into Fabio's evolution.
Fabio competed in Rimini, his first worlds, in 2004, and was thriller to make it to the semi-finals.
Eleonora entered the scene in 2004 and in 2006, they won the mixed pairs world title. That championship gave Europeans hope that anything was possible!
Fabio's favorite routine with his lovely partner Eleonora, was in Prague in 2011, which was an amazing victory for them.
Thanks to all of you who have become Patrons, feel free to join us on Patreon.