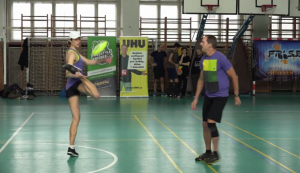 Frisbeer Cup 2017 featured a Challenger pairs division. Think of it like an amature division. It allows players / teams who would have been seeded near the bottom in open pairs, to play against their peers for a chance a first place. Divisions like this are often talked about as a way to inspire players with developing skills to attend and compete in a tournament.
This weeks poll, should more freestyle frisbee competitions have a challenger / amature division?
[poll id="5″]
Let us know in the comments what you think about challenge / amature divisions.