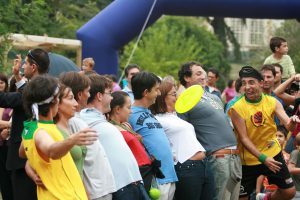 Frisbee shows are a big part of the Freestyle Frisbee culture. It makes perfect sense. Freestyle Frisbee is an art form that consists of creative body movements with a flying disc. Doing a Frisbee demo or show can be a vehicle to share one's art to bring joy and inspiration to others. Shows and demos can also be a way to turn the passion of Freestyle Frisbee into a living wage. In many of our
podcast episodes
and in
The Harlem Globetrotter Tour Story
we've discovered that demos and shows are a part of the history of the game.
My personal Frisbee story includes demos and shows as well. My first demo was with my brother Matt and our good friend Scott Weaver. Scott got us the gig at a local elementary school. Matt and I were very new Freestyler's but Scott made it it easy. He did all the talking. Matt and I played a little catch and then we did a short
jam
. As Matt and I attempted to pull off our most
heinous
moves, Scott told the kids how amazing our tricks were. Though my personal assessment was that I was a beginner, the kids thought we were amazing. We then finished the demo with a tutorial. Many of the kids learned to
throw
and
catch
and a couple could almost
nail delay
. The best part was how much fun the kids had with us. I felt privileged to share something I loved with an such appreciative audience.
Since then, I've done many more shows to kids and adults. Though I'm not actively looking for shows to do, I certainly would jump at an opportunity that presented itself.
So now it's your turn. Let us know if you've ever done a Frisbee demo or show and if you're interested in doing more. Bonus points if you share a story about one of your shows in the comments below.
Have You Ever Done A Frisbee Demo or Show?
[poll id="52″]