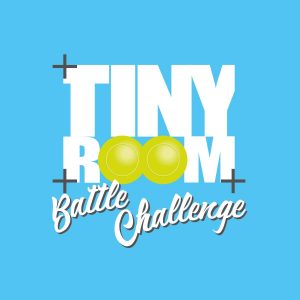 Tiny Room Battle Challenge will take place online on April 25 & 26 @ 12p EDT. Being online means that competitors will be performing from their own living room, or any tiny room, while signed into a zoom session. Judges, hosts, and coordinators will also be logged in to run the show and the whole thing will be broadcast on FrisbeeGuru for audience enjoyment.
The rules are as follows. 56 open competitors and 8 women's competitors have will face off in a single elimination battle, with the winners moving onto the next round. This continues in a bracket system until one open competitor and one women's competitor is crowned the winner. In the opening round, there will be 3 battles. After each battle, judges choose a winner and the first to win two battles moves on. In the next round, there are 5 battles, then 7, and so on. During each battle a player has no more than 10 seconds to perform their tricks, though they may stop early.
There are 5 judges scoring each battle; Tommy Leitner, Mehrdad Hosseinian, James Wiseman, Ayal Benin, and Fabio Sana. This panel is a whose-who of Freestyle Frisbee. Hosting is Daniel O'Neill with co-host Freddy Finer. Helping with the tech side and co-ordination are myself (Jake Gauthier) and Ryan Young.
With that out of the way, let's take a quick peek at the brackets. First up, women's: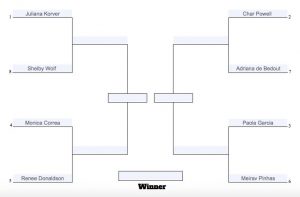 As you can see, it's quite a field. Juliana is the woman's and mixed pairs title holder for FPAW 2019. 3 of the competitors were in WUG last year. To round it off, there's strong representation from Medellin, Columbia. This should be interesting as there's top talent and some unknowns that could surprise us.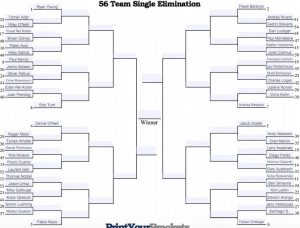 The open bracket is stacked. 56 competitors spanning the globe and styles of play. They range from top players in the world to some who rarely travel to competition yet have incredibly deep games. Here, again we may be surprised at what we see, with players pulling off upsets and bringing skills that we never knew existed.
I just want to give a special thank you to Daniel O'Neill for pulling this together. Given the situation of canceled events and not being able to gather jam together, this event is an opportunity for us all to connect and share in the sport and pass time that we love. Check out the facebook page to learn more. Tune in to watch here.
Below is a photo from Lori, taken durning a rehearsal session today.