Podcast: Play in new window | Download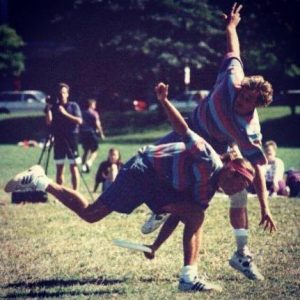 Doug E Fresh is back to talk more about some amazing players, and that leads to some interesting banter about the history of the Seattle mob-op scene.
Jake announces that Frisbee Guru will now be the official home of Heinsville, Shooting the Frizbreeze, and the live stream.
Frisbee Fashion icons?
Doug shares his experience about growing up in NYC in the late 70's and being inspired by seeing dudes jamming in the Bandshell.
Find out how a mistaken identity benefited Doug's development as a player.
Did Randy really drop out of high school to play frisbee and eat?
Join the lovefest between Randy & Doug and the hear about the impact Doug had when he moved to Seattle.
Was this the birth of mob-op as we know it, or just an extension?