Podcast: Play in new window | Download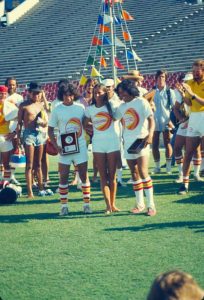 It is hard to have the right words to introduce these two hall of famers, the amazing V-Brothers, Jens and Erwin Velasquez. They talk about their New Jersey roots and their introduction to Frisbee via Ultimate. But their real excitement was ignited when they went as spectators to the multi-faceted Frisbee Overall event called OCTAD in 1975. It was there that they watched in awe as Victor Malafronte, John Kirkland, Ken Westerfield, and others showed off their disc skills. From that point on, they were hooked. Before heading off for the summer to visit family in Peru, they bought a bunch of Frisbees to take with them. Listen as they recount entertaining the locals in various town squares, while unknowingly preparing themselves to become the next World Freestyle Champions at the Rose Bowl in 1976.
Here is Jen's account of sending a letter to Whamo and meeting Ed Headrick.
Here is Whamo's response to Jen's letter. He suggests you read the above link first.
Here's some more history of OCTAD  and Freestyle's growth in 1975-76.