Podcast: Play in new window | Download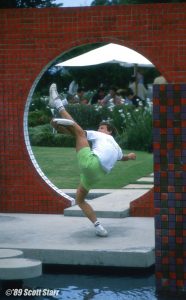 Randy asks Chipper Bro which 3 players he'd choose to play with under some very specific conditions.
They give their regards to their friend and fellow freestyler, Dave Bailey, who recently passed away.
Find out Chipper's favorite tricks and how they make him feel.
Can anyone guess Chipper's preferred kitchen utensil?
Hear how fabulous frisbee tricks facilitated the federales putting down their guns and other wild stories.
Chip closes out with some touching sentiments!
Several weeks ago, there was a guest that did the intro… Who done it, you ask? It was Eduardo Turri from Rovereto, Italy. We got lots of good guesses, but no one got it right.
Thanks to everyone that helped make City vs City a success. The finals between NYC and Berlin were close, but in the end, Berlin walked away with the keys to the city of Heinsville and they will wear the crown for 2019.
Frisbeer is coming up in early March, and if you're not going to be there in person, we hope you'll tune in for the live stream on frisbeeguru.com.