In 1997, a beach ultimate event in Italy added freestyle to the event drawing players from the USA as well as from throughout Europe. The Americans in attendance at the 1998 Paganello event were Larry Imperiale, Paul Kenney, Rodney Sanchez, Alan Caplain, John and Rohre Titcomb, as well as Bethany Porter Sanchez. The veteran Europeans were Thomas Finborud,
Sune Wentzel, Clay Collera and Reto Zimmerman. From that point forward, freestyle would be profoundly changed. The numerous young Europeans attending the event were now 'turned-on' to the exciting sport of freestyle. In 2000, Tom Leitner attended his first Paganello tournament. By 2002, he had moved to Rome, Italy and taken on the role of mentor to the 100's of new freestylers from virtually every country in Europe. Freestyle interest in the US was waning with only a handful of new players emerging from what was once a hotbed of activity. Even with this low level of growth in the USA, a crop of new players emerged just as talented as their compatriot predecessors. Those new players were Arthur Coddington, Dave Lewis, Paul Kenny and Matt and Jake Gauthier. All of these individuals were active in the previous era, but their peak years were in the decades to follow.
In 2002, Nike launched a large European-based promotional campaign that featured freestyle as a central component. This assisted in gaining new players from throughout Europe. The new players merged with the remaining European Freestylers eclipsing the number of players in the USA. The old guard of Euro Jammers featured the aforementioned Clay Collera, Sune Wentzel and Reto Zimmerman along with Joakim Arvskar. The new crop of Euro Jammers featured Fabio Sanna, Claudio Cigna, Matteo Gaddoni as well as a new wave of great Women's players such as Sylvia Caruso, Judith Haas, Eleonora Imazio and Bianca Strunz.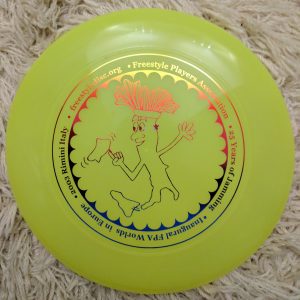 The Hosting of the FPA World Freestyle Championships in Europe sparked a rapid growth and development of freestyle worldwide. 2003 was an important year for freestyle; it became a worldwide culture and a model for all disc sports to emulate. The explosion of talent from Europe over this time also gave reference to the foundations of play that were laid by such notables as Jan Ekman, Mikael Hjartso and Valentino De Chiara.
Freestyle continues worldwide growth and development as a sport. And with the recent acceptance of the World Flying Disc Federation (WFDF) by the International Olympic Committee (IOC) it may even be headed for Olympic competition in the future.
Thanks to the Freestyle Players Association (FPA) for sharing this information with FrisbeeGuru.com.
The entire document is stored on FreestyleDisc.org, as is the FPA's Hall of Fame.