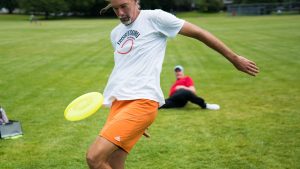 The weather is warm, the breeze is perfect, it's jam time. You and your cohorts arrive at the field with nails and discs and you're ready to shred. But wait, there's still a discussion to be had before the jam can begin. What music will you play to?
The music can dictate how hot the jam will be, how fired up the players will feel, how much fun will be had. Slow music might lead to more relaxed and controlled play. Upbeat music might cause people to play harder and go bigger. Music with changing tempos might bring out more creativity. The jam becomes a dance, and the music can be what drives it. Its such a personal choice and everyone has their opinions. In this poll, let's find out what type of music you live to jam to.
What Are Your Top 3 Music Genres to Jam Too?
[poll id="32″]