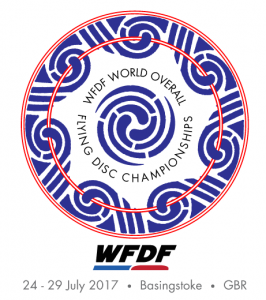 The WFDF Overall Championships for 2017 is coming up soon – taking place in Basingstoke, UK for six days of all-day Frisbee/flying disc games; from July 24th-29th. The Freestyle part of the Overall games will be during the final days of the week: July 28th and 29th. This will be the first time in many years that the WFDF Freestyle event will garner Pro-level ("major") ranking points, especially since competitors are vying for the WFDF World Freestyle title. The current list of participating competitors includes some of the best women, men, and junior-level freestylers in the world, from at least 12 different countries, and many of whom are preparing for the following week's premier freestyle event: the FPA World Championships in Udine, Italy (Aug 3rd-6th).
The WFDF World Freestyle event will include both open pairs and women's pairs, and will use the standard FPA competition format. Ryan Young will be there to head up the judging with his tablet based system.
Being an Overall flying disc event means that points are earned by disc players in every disc game played throughout the week, including Freestyle. Therefore, numerous "hidden" jammers (i.e., disc golfers, double-disc court players, discathon runners) will be putting on nails and competing in freestyle with routines filled with creative ideas and tricks.
There's a lot to see throughout the week, if you can come and watch the action. Can't be there in person? Well, no need to fret! For the first time ever, Jakub "Mystiq" Matula will be live streaming both days of freestyle! Check it out here.