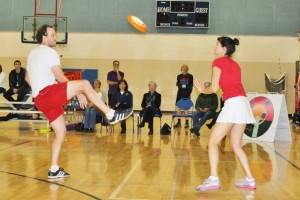 The American Freestyle Open (AFO) Frisbee Championships took place in Austin, Tx on the weekend of November 14 – 16. The competition attracted some of the world's best mixed pairs Freestyle Frisbee teams. Among them was the team of Lisa Hunrichs and Matt Gauthier from Portland, Oregon. Lisa and Matt are the current mixed pairs world champions, having won in Medellin Colombia back in July. Also on the roster were the wife and husband team of Amy and Dave Schiller.
A Freestyle Frisbee competition is similar to doubles figure skating. Teams choose music and then perform their best acrobatic tricks with a Frisbee for four minutes. Judges will award a score in three categories: Execution, Difficulty, and Artistic Impression with a perfect score being 73.
Amy and Dave have been performing in Freestyle competitions for over 20 years together and it shows. They know each other so well that they know when to stay close, when to back off, and they do it all with extreme grace and poise. They took the stage at AFO, ready the dethrone the current champs, and performed a beautiful routine. Their final score was 51.4. Video Replay is here.
Lisa and Matt were not deterred. They have been competing together for for 10 years and have multiple world championship titles as a team. While they may not have the grace of Amy and Dave, they certainly make up for it in the complexity of their tricks and in choreography. They combine technical disc work with humor and perfect musical timing that always grabs the crowds attention. After a near repeat performance from their world championship win the judges awarded them the win with a score of 53.1. Video Replay is here.
Tell us if you think the judges got it right in the comments below.